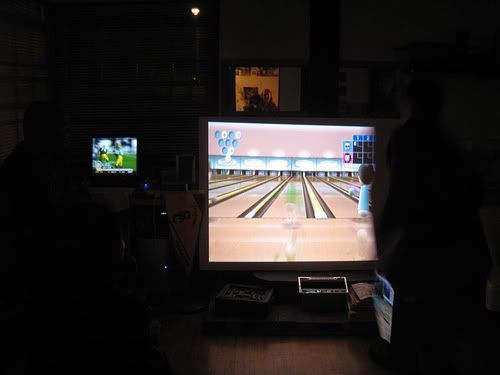 that is mau's nickname for his newest, and coolest video game console/insta-party machine!
last friday, jason, anna and i were invited over to mau and ali's for a wii party.
after experiencing wii with my closest friends for the first time… it was a clear indication that we were all witness to some kind of revolution. the world of video games was about to get shaken up…. and shaken up good. the joy of arcade-like interaction, first person, action play…. is brought to your home. and with controls so damn easy to use – even your grandpa and mom can play with you. and i am pretty sure they will. (even mau's dad wants his own wii) and given enough time with your wii, those elders can probably kick your ass at any game. and when does that ever happen? when was the last time your pops asked to play a video game with you?
you see… wii loves everyone, everyone loves wii.
keeping it simple and going back to the basics of why people love playing video games was pretty much the main concept nintendo had in mind. and they got it right. and it didn't even cost mau $600.00. whew!
it was just pretty damn amazing to see how much fun we were all having together. for the first time in ages we were all engaged in playing a video game. it felt like childhood all over again – do you remember the first time your family bought that nintendo family computer? with mario and luigi jumping in and our of sewers – eating mushrooms and flowers and saving a princess? now with wii … you reconnect with your loved ones via boxing, to tennis, to bowling… kicking each other's butts at tennis and punching the hell out one another was never this much fun!…. thank you wii! hahaha
(and many many thanks to mau and ali for being kind hosts! we'll see ya guys soon! he he)
+++ although all mau v. mel tennis matches and boxing rounds were won by the wii owner. (mau) the purchase of my own console in december will pretty much fix that "problem"… a rematch is on the horizon. rather a rematch with mel kickin' mau-wii butt.
look out.